This week, the favorite topic of conversation in the world of golf architecture again involved the Old Course at St. Andrews and the pending design changes being fashioned by the Royal & Ancient. Peter Dawson, the chief executive of the R&A, told
Golfweek
that
most of the comments he's heard regarding the forthcoming changes are "ill-informed"
and expressed a wish for "some balance and perspective." Ian Andrew, a Canadian designer,
offered some of his own perspective
. In an open letter, he called any recontouring of the land at the Old Course "a breach of the public trust" and urged the American Society of Golf Course Architects to take a stand. Given his feelings for the Old Course, Andrew must have been disheartened when
the ASGCA politely refused to voice an opinion
and declined to make a formal statement. However, it encouraged its 180 members share their personal opinions! The ASGCA's European counterpart likewise delivered a strong, firm "no opinion," couched in the form of
a poll whose results are meaningless
. Add all this up and what do you get? One message, as delivered by
Golf
magazine's Joe Passov:
The alterations at the Old Course "aren't worth fighting about."
Such is the way that controversies are diffused, with a whimper instead of a bang.
A Chicago, Illinois-based lender is boldly going where few other lenders are willing to go: It wants to buy loans on U.S. golf courses. "Without going into extremely specific detail of what we intend to do with the purchased golf course loans," says Jake Clopton of Clopton Capital, "I would like to announce to the commercial lending world that
we have a strategic desire to obtain these loans as soon as possible
." In a press release, Clopton described golf courses as "an excellent investment" but noted that his firm doesn't expect to make golf lending its primary business.
Despite all the ink that's been spilled discussing golf's appearance at the 2016 Summer Olympics, not everyone is gung-ho on golf being part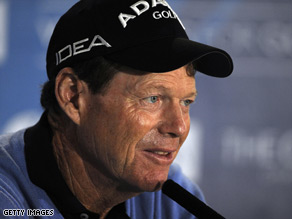 of the games. "I still think of Olympics as track and field and not golf, to be honest with you,"
Tom Watson said during a break at the Australian Open
. "I don't want to pour cold water on it, but I don't think it should be in the Olympic Games." While we're on the subject, is it time to start taking bets on when construction will begin in Rio de Janeiro? Gil Hanse was originally scheduled to get started in October.
Jack Nicklaus is teaming up with SNAG Golf on
a grow-the-game initiative
. The idea is to put SNAG's easy-to-use golf equipment into the hands of kids as young as five and then, as they get older, to move them into competitive golf leagues, sort of like golf's version of Little League baseball. "There are few people in the game more traditional than I am, but I recognized long ago that our game needs change," Nicklaus told the
Wall Street Journal
. "We have been a sport that, historically, has been slow to change and adapt." The program kicks off next year, and it'll be funded in part by a foundation that Nicklaus has established.
In a demonstration of world-class pettiness, Donald Trump has called for
an international boycott of Glenfiddich scotch
and all other whiskies produced by William Grant & Sons. The reason: Glenfiddich has given its annual "top Scot" award to a landowner who refused to allow his property to become part of Trump International Golf Links Scotland. Never mind that the award was made via a public vote. Trump thinks that Michael Forbes, this year's "top Scot," is a "loser" who "lives in a pigsty" and alleges that Grant's is a "bad liquor company" that's acting out of spite because "we created our own single malt whisky using another distillery." Trump contends that "there is no way a result such as this could have been made by the Scottish people." Wanna bet?
The
Southern Pines Pilot
runs down all that's happening at the Pinehurst resort in North Carolina, including the future of the much-discussed Course #9. The bottom line is that
work on the track won't begin until after 2014
, when both the men's and women's U.S. Open championships are played on Course #2, and perhaps not until much later. "With the economy still a little slow," the resort's president said, "we don't think that opening a new course now would increase our play at the resort. It appears golfers would just be playing there instead of at one of the other courses."
Mike Ross, the developer of the Rarity Club communities in Tennessee, has been charged with
mail fraud, wire fraud, and money laundering
in connection with a project featuring a Lee Trevino-designed golf course on Nickajack Lake, outside Chattanooga. Speaking through his lawyer, Ross denied any wrongdoing and blamed his financial woes on the U.S. housing slump.
Also on this week's police blotter: Thomas O'Meara, the developer of the aborted Running Horse golf community in Fresno, California, has been
sentenced to more than six years in prison
. In July, O'Meara pleaded guilty to defrauding more than 50 investors out of $16 million. For what it's worth, Donald Trump considered buying the 480-acre Running Horse property when O'Meara got into financial trouble. The community's Nicklaus Design golf course was partially built and abandoned.
Last week I reported that Accordia Golf Company, the big Japanese golf management firm, has become the target of a hostile takeover attempt. This week I must note that
Accordia isn't rolling over and playing dead
.
This week the
Irish Examiner
caught up with Ron Kirby, one of the grand old men of golf design. Kirby, who turned 80 this year, has been designing courses since 1960 -- he got started with Dick Wilson and Robert Trent Jones -- and he still apparently has the itch to walk raw land and find the golf course hidden in it.
"The excitement comes in the mystery,"
he told the newspaper. "I love finding a place where I can say, 'The course should start here and then go back this way.'"
You've no doubt heard that Michael Jordan was recently tossed out of a snooty golf club in Miami Beach, Florida for a dress-code violation. So I was relieved to read that Troon Golf has taken a more liberal view of what can be worn at the golf properties it manages in the United States and around the world. The aim, Troon says, is to make its clubs "more welcoming and accepting environments for new players," and
the suitable new attire includes denim and gym shorts
. And cargo pants, presumably.
The muddy bottom of a lake in County Donegal, Ireland is being scoured for gutta-percha golf balls that once belonged to Old Tom Morris. The famed golf pioneer is believed to have knocked as many as 20 balls into Lough Salt, near the town of Kilmacrennan, in 1891, while he was designing the original course at the nearby Rosapenna golf resort. "It really is like
looking for a needle in a haystack
," one of the divers explained, "but if we find the golf balls, it'll be well worth the effort."