oman

Ready To Catch the Wave?
The first nine holes of the Greg Norman-designed golf course in Muscat have been opened for play, and the remaining holes are scheduled to debut next spring.
The course will serve as a drawing card for the Wave, a community along the Gulf of Oman whose master plan includes more than 4,000 villas, townhouses, and apartments, four hotels, a marina with slips for 400 yachts, and a shopping area. The Wave's developers, a group led by government-controlled Waterfront Investments, also plan to someday open a nine-hole, par-3 course.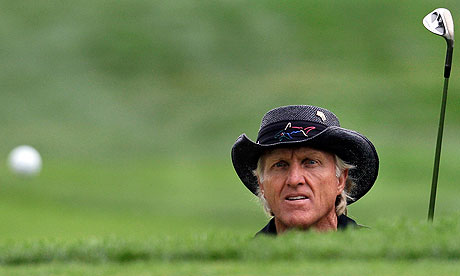 Norman moved a lot of earth -– 900,000 cubic meters, reportedly –- to build the Wave's 7,300-yard Al Mouj track, but he believes the results will soon speak for themselves. Until that day comes, however, he'll do the talking. During a site visit in July,
the Florida-based "signature" architect called the links-inspired, soon-to-be floodlit layout
"one of the finest golf courses I have ever produced anywhere in the world" and one that will be "worthy of hosting a prestigious world-class tournament, perhaps a European Tour event, in the near future."
Thanks to such comments, the club's general manager told the
Times of Oman,
"we are well on the way to establishing the AlMouj golf course as a top golfing destination in the Gulf."
Speaking of vacation destinations, I should note that Oman reportedly lured more than 1 million tourists last year, a 12 percent increase over the number recorded in 2009. The
Times
notes that the emirate has emerged as an attractive vacation spot in part because of the Arab Spring, which has turned Egypt, Libya, Syria, and other Middle Eastern nations into no-go zones.
Some information in this post originally appeared in the December 2011 issue of the World Edition of the Golf Course Report.
And in Other News . . .
. . . india
Ground is being cleared for the first golf course in Surat, the capital of the state of Gujarat. The as-yet unnamed 18-hole track will be the featured attraction of a 300-acre community that's been master-planned to include houses and a sports center. "Our idea is to develop a facility that will cater not only to golf lovers but also to families during the weekends," says Manish Katargamwala of Shree Hari Corporation, which plans to break ground on the community's clubhouse in early 2012. Incidentally, Wikipedia identifies Surat as "the third-cleanest city in India."
. . . ireland
A pair of 18-hole golf courses may soon emerge on the site of the Battle of the Boyne in County Louth. The battle, which claimed the lives of an estimated 1,500 Protestants and Catholics, was fought in 1690, on what is now the home of Oldbridge House. The house and its accompanying 550 acres, located in a northern suburb of Dublin, were recently purchased by what the
Drogheda Independent
describes as "a consortium of national and international businessmen." The new owners aim to flank the golf courses with a resort-style hotel, some golf and fishing lodges, and an equestrian center. This appears to be an upgrade for the Oldbridge estate, which in recent years had been owned by a fellow identified as a "pig farmer" and was presumably operated as a pig farm.
. . . china
Two noteworthy tidbits from the recent China Golf Show in Guangzhou, the city once known as Canton: First,
Golf Course Architecture
reports that the show had "a smaller representation of golf architects than in previous years." Do you think that's a sign of the times, or a harbinger of things to come? Second, the largest group of exhibitors at the event were said to be companies selling golf simulators, a video-game version of golf. John Strawn, the president of Hills & Forrest International Golf Course Architects, takes a benign view of artificial golf's growing popularity, describing the simulators as "the low-cost entry point for people yearning to play golf -- what they can play until China takes on building daily-fee courses or even municipal courses." My question: What if China's 20- and 30-somethings get hooked on video-game golf and conclude that actual golf -- with venues that aren't nearly so visually appealing and weather that isn't nearly so ideal -- isn't nearly as much fun?
. . . abu dhabi
Now that
Golf Digest
has named Yas Links as the best golf course in the Middle East, tourism officials in Abu Dhabi are furiously touting their golf offerings. These days Abu Dhabi boasts three of the best courses in the region, they argue: Yas Links at number one, Abu Dhabi Golf Club at number three, and Saadiyat Beach Golf Club at number six. "These vital recognitions highlight the significant progress Abu Dhabi has made as a world-class golf tourism destination," claims a tourism official. Really? Not to dis any of the aforementioned courses, but we need to put
Golf
's rankings in perspective. According to my best count, there are only about 16 or 17 golf courses in the seven United Arab Emirates, just five of them in Abu Dhabi. The emirate's tourism boosters can stretch the facts any way they want, but the plain truth is that their golf courses are the proverbial big fish in a very small pond.
. . . united states
The Point has been Trumped. Donald Trump, who's still threatening to become a presidential candidate, has decided that he no longer wishes to buy the Point Lake & Golf Club, a property viewed by his son as having "a lot of potential." The Trump Organization's interest in the Point, which is located on Lake Norman in Mooresville, North Carolina, was mentioned in this blog just last week. Eric Trump blames the end of the dream on "a lack of direction" at the club – the ability to identify poor leadership is apparently a family trait -- explaining that his family doesn't wish "to get bogged down with a deal that has a lot of different parties all moving in different directions." Unfortunately, democracies are like that.
wild card click
No risk, no reward.